Expand your dietary supplements business by exporting to Canada seamlessly and cost-effectively. Our integrated services model combines essential regulatory, analytical, and quality services under a seamless single umbrella saving you time and money.
Canada is not that much different than the United States and other countries when it comes to the growing consumer acceptance and demand for supplement products.  If you are planning to market your brand in Canada, there are a few differences we think you should know, to ensure your products meet Canadian compliance and safety regulations.
Dietary supplements in the United States are classified as Natural Health Products (NHPs) in Canada. Unlike the US, where they are defined as foods and not required to submit evidence to the FDA for safety or efficacy, NHPs are regulated as a subset of drugs by Health Canada under the Natural Health Product Regulations. As such, dietary supplement exporters into Canada are required to have licenses to market and sell their products. Licenses are issued by demonstrating to Health Canada that your products are safe, effective, and high quality along with compliant labeling and claims.
Solutions and Services
Regulatory Affairs & Quality Management
We bring over two decades of experience in helping US supplement companies get a foothold into Canada.
• Natural Health Product License (NPN) approval
• Submission of evidence for product safety, efficacy, and quality
• Canadian labeling compliance requirements
• Manufacturer and Importer (of record) Site Licenses
• Post Licensing Product Amendments
• Record Keeping and Adverse Events Reporting
• Quality Programs: Release/Reject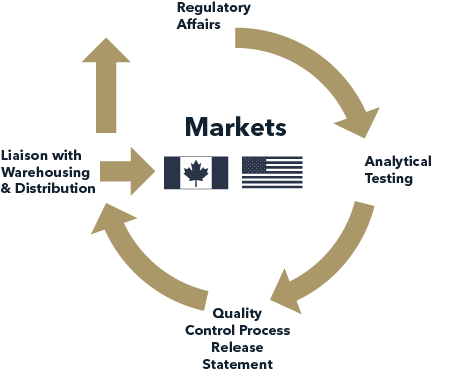 Comprehensive Analytical Testing Services
Benefit with savings up to 40% from the Canada/USA Exchange Rate Difference
Our USA and Canadian laboratories offer comprehensive pre-market analytical laboratory testing services for safety, efficacy, and quality for your dietary supplements.